K-band Low Noise Amplifier


17-27GHz,2.2dB




High Power Wideband Power Amplifier


0.7-2.7GHz,200W




Frequency Range:

17-27GHz




Frequency Range

:

0.7-2.7GHz

The DBLNA217702600A is a wideband low noise amplifier which operates from 17 to 27 GHz.The amplifier delivers 28 dB of gain with a noise figure of 2.2 dB typ. and P1dB of +21dBm. The amplifier has low power consumption and uses +12V to +15V power supply, with a typical current value of 168mA. It is ideal for test measurement and wireless infrastructure.

This is a wide band High-Power Amplifier based on GaN design. The Gain can be up to 57dB typ. during the working frequency band of 0.7-2.7GHz. The Psat of this amplifier can be up to 200W, and P1dB up to 125W, and its efficiency can be up to 25%. The operating voltage is +36V@20A, with high stabilities, high reliabilities, high linear characteristics, supporting both pulse and continuous-wave work.



Ultra Wide Band Low Noise Amplifier




The DBLNA300101800A is a wideband GaAs low noise amplifier which operates from 0.5 to 20 GHz . The amplifier delivers 60 dB of gain with a noise figure of 2 dB typ. and P1dB of +22 dBm. It is a 50ohm well matched. The amplifier is an ideal for test measurement and wireless infrastructure.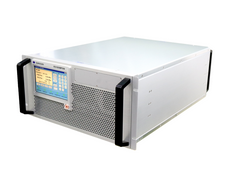 SA1036 High Power Amplifier
SA1036 is suitable for multi-octave bandwidth high power CW, modulated, and pulse applications. This amplifier utilizes high power GaN device that provides wide frequency from 1000 MHz to 2500 MHz with minimum output power 350 Watt. With various options, we assure that SA1036 has consistent performance and the high reliability. To review all specs, please download the data-sheet.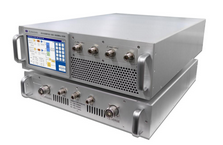 The PIMD (Inter modulation Distortion) is created by passive components (such as antennas, filters, couplers, and dividers). Connectors and cables can be a nuisance for mobile network operators and maintenance engineers; SUNGSAN E&C's PIMD Analyzers obtain high quality of technical accuracy and expertise, reducing leadtime and cost of isolating components before installing the network system.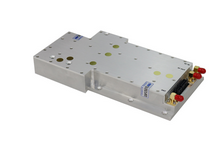 PA3102 High Power Amplifier
As TDD amplifiers, this high power amplifiers, PA3102 is included Tx, Px pass. Its operating frequency is from 2496 MHz to 2690 MHz with 44.7 dBm, which is based on PAR 8.5 dB. You can review all specs regarding PA3102 by downloading the data-sheet.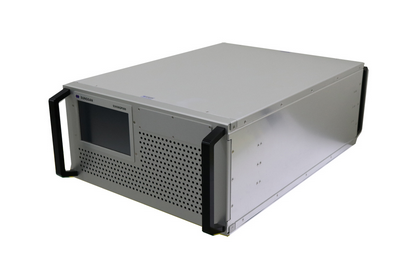 SA2033 High Power Amplifier
SA2033, which is 5U Shelf type Amplifiers, operates at LTE Band 42(3400 MHz to 3600 MHz) with Output Power 500 Watt and Its Power Gain is typical 57 dB. With outstanding performance, reasonable price and high reliability, it would be fit on RF burn-in, such as RF Component and Antenna. You can review all specs by downloading the data-sheet.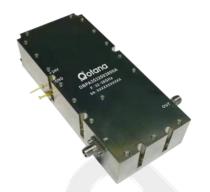 32-38GHz 4W Solid PA in stock
P/N: DBPA3532003800A in stock
32-38GHz Gain35dB Psat36dBm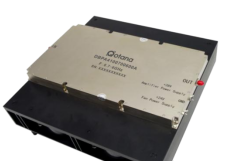 0.7-6GHz 15W Power Amplifier
P/N: DBPA4100700600A
0.7-6GHz 15W Solide State PA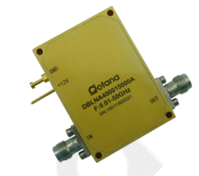 0.01-50GHz Low Noise Amplifier
P/N: DBLNA400015000A
0.01-50GHz LNA Gain:43dB NF:5dB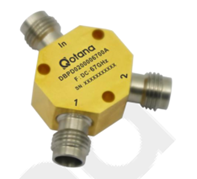 P/N: DBPD0200006700A
DC-67GHz 0.5W 2-way Power Divider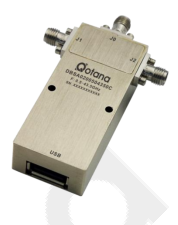 0.5-43.5GHz USB Control Switch
P/N: DBSA0200504350C
0.5-43.5GHz USB Control SP2T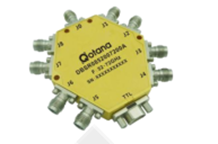 P/N: DBSR0852007200A
SP8T, 12dB Insertion loss, 35dB Isolation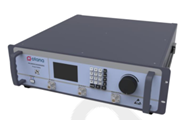 P/N: DBEMCA02000600A
2-6GHz 100W Gain 45dB SSPA EMC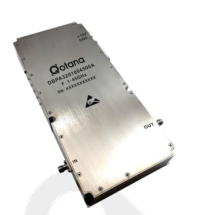 P/N: DBPA3201004500A
1-45GHz, 0.8W, Gain30dB, Psat 29dB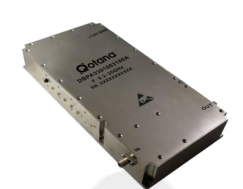 P/N: DBPA3301003100A
2W, Gian 30dB, Psat 31dB, SSPA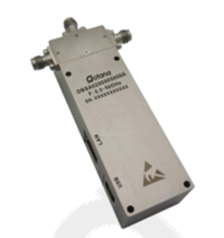 USB/Ethernet Control Switches
SP2T/SP4T/SP8T
Up to 50GHz broadband Switches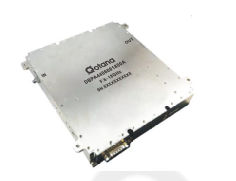 6-18GHz 40W SSPA (In stock)
P/N: DBPA4406001800A
6-18GHz,40W, Gain 56dB,Solid State Power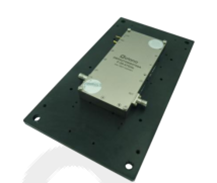 P/N: DBPA2720004700A
20-47GHz,1W,Gain 32dB, SSPA,in Stock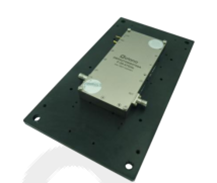 2-6GHz 20W Solid State PA
P/N: DBPA4302000600A in stock
2-6GHz 20W Gian50dB Psat44dBm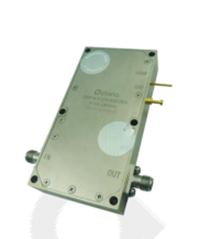 18-28GHz 1W Solid State PA
P/N: DBPA3018002800A
1W, Gain36dB, P1dB31dBm, Psat32dBm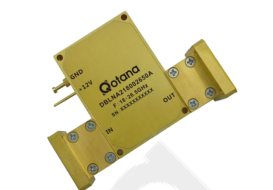 K/Ka Band Waveguide to Coaxial LNA
DBLNA218002650A WR42 18-26.5GHz LNA
DBLNA326504000A WR28 26.5-40GHz LNA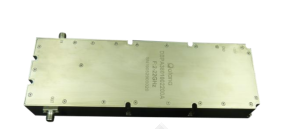 1-22GHz 8W Solid PA in stock
P/N: DBPA3801002200A in Stock
1-22GHz 8W Gain44dB Psat37dBm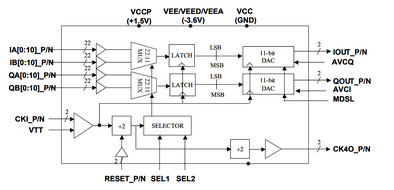 2 Channel 3.2 GHz MUXDAC MD223D with bandwidth from DC to 1.6GHz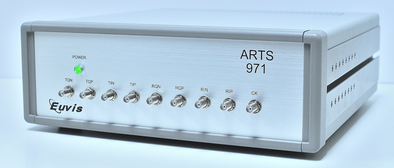 New Automobile Radar Target Simulator Baseband module ARTS_BB 971 now available. Features include: 2 GHz processing bacndwidth, 4 independent simulatin targets, dynamic and static target simulations, all-in-one spectrum/power analysis, and more.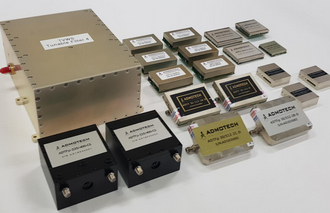 High Power Tunable Band Pass Filter ADTBF 1025-1150A for TACAN

Applications
• Tactical Air Navigation (TACAN)
• Industrial and Medical Equipment
• Test and Measurement Equipment

Features
• Frequency controlled by Electrical RS232C
• Below 1.0 dB Insertion Loss at center frequency
• 100 W CW Input Handling Power.
• Ultra Low IMD Characteristics.
• DC Bias Current 1.35 A Max. (Motor Moving), 250 mA (Quiescent)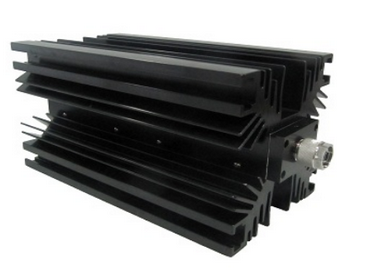 Coaxial fixed terminations
2-20 GHz 500 W/5kWpeak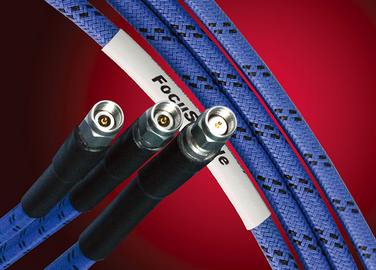 High Precision Phase Stable Test Cable
Acculine is the millimeter wave testing cable
high-performance, high-precision, fixed amplitude and stable phase up to 50GHz.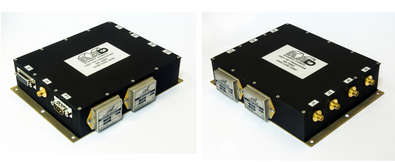 Space Qualified Up/Down Converter
pace qualified up/down converter with the following features:

Rad-hard voltage regulator
Unit converts from K band to L band and vice versa
Down converter has 80 dB gain, and 50 dB gain control which is achieved with 6-bit LVDS signals
The outputs are filtered from image frequencies and spurious.
A dual output single LO is used for maximum efficiency
Size: 6″ x 5″ x 1.5″